Denne maskinen kan arbeide med plast- eller glassflasker laget av forskjellige materialer, som med rund eller oliven form, for eksempel øyenåpeflasker, orale væskeflasker, neglekunst malingsflasker, øyeskygge flytende flasker, pharma ampole flasker, parfyme flasker, plante essens flasker, elektroniske sigaretter flytende flasker, og så videre.
Denne maskinen har en presisjonsdrevet roterende kamplate for å sikre alle bevegelser nøyaktig, for eksempel tomme flasker som kommer inn, væskefylling, innvendig propptaking og pressing, utvendig hettehenting og skruing, osv.
Peristaltisk pumpe- eller stempelpumpe-fylling, konstant dreiemomentskrue, avansert PLC + betjeningssystem for berøringsskjerm, ingen flasker uten fylling, ingen indre stopper og ingen innmating av utvendig hette. Utmerket kjørestabilitet, høy lokaliseringspresisjon og høy fyllingsdosepresisjon. Spesielle bearbeidede og kalibrerte innvendige stoppere og utvendige lokkeinnretninger, sikre de ferdige produktene med høy kvalifiseringsgrad.
Avhengig av kundenes produksjonsmengde, kan maskinene våre tilpasses med to eller fire påfyllingsdyser, en eller to innvendige stoppeinnførings- og presseinnretninger, en eller to utvendige hetteinnførings- og skrueanordninger. Og denne maskinen kan også arbeide med automatiske tomme flasker som ikke kan skrapes, automatisk merking av flasker, blekkskriver, for å være automatisk produksjonslinje.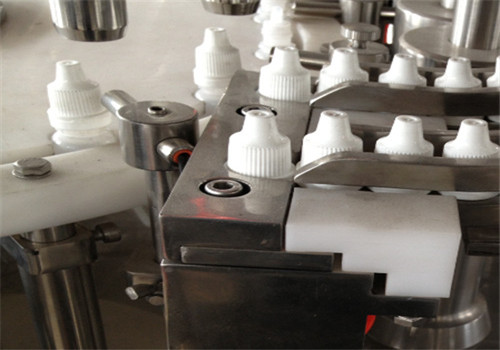 Egenskaper:
Mye anvendelig i mat, kosmetikk, medisiner, spesielt for liten presisjonsdosering i små flasker.
Vedtar avansert PLC + berøringsskjerm-operativsystem, enkelt å betjene.
Pneumatiske mekaniske hender tar de indre stoppene og de ytre dekslene, utmerket stabilitet og høy presisjon.
Meget lav støy, lavt energiforbruk.
Delkontaktproduktene er laget av SUS 304 eller SUS 316L, anti-korrosjon og anti-rust, organisk glass hele dekselet, sikkert, sanitær og støvtett, gjelder med GMP-standard.
Arbeidsprosedyre:
-Tomme flasker som ikke er krymper (eller vibrerende skålmater)
-Tomme flasker som kommer inn i roterende kamplate
-Viktig fylling - Mating og pressing av indre propp
-Fôring av utvendig hette
-Utvendig hettskrue
- Ferdige flasker går ut
-Lime-selvklebende etiketter-utskrift av dato / batchkoder
-Fyllte produkter.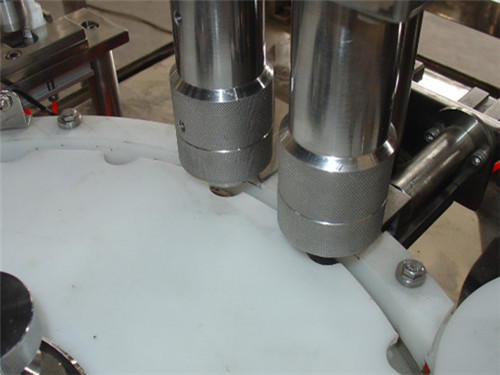 Tekniske parametere:
Gjeldende flasker størrelse: høyde: 20mm-100mm, diameter: 10mm-100mm.
Gjeldende flasker: glass eller plast.
Gjeldende flasker form: rund eller oliven, eller kan tilpasses.
Gjeldende produkter: Flytende produkter.
Påfyllingsvolum: 5-50 ml
Kapasitet: 20-40 flasker / min (avhenger av fyllingsvolumet)
Fyllingstoleranse: ≤ ± 1%
Effekt: 1,5Kw.
Spenning: AC220V, 1 fase; AC 380V, 3 faser (Kan tilpasses).
Trykkluft: 0,6-0,8Mpa, 2 m³ / t
Bruttovekt: 650 kg.
Dimensjon: L250 * W110 * H175 cm.